Latest news
WhatsApp now allows users to recognize forwarded messages
WhatsApp has added a new tag "Forwarded" at the top of the messages that are sent via 'Forward' option. This tag appears to both sender and receiver. This feature is available for all beta users for a while and it is expected to release for all users very soon. IOS and Web users not yet have not received any such update yet.
This is a hefty feature aimed at crushing annoying and spam WhatsApp messages. This is one of the great tweaks that Facebook made to its instant messaging app, WhatsApp. According to a report by Wall Street Journal released in January this year, one in three Indian smartphone users suffered from lack of storage mainly due to forwarded good morning texts and pictures. This gets even more annoying during birthdays, festivals, and occasions.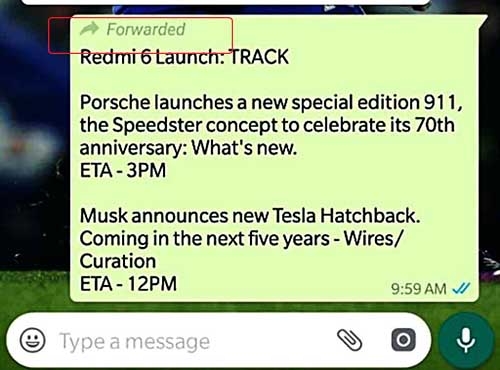 The other main important use of this feature is that you know whether the message is important or not. Most often the forwarded messages contain spam content, so you'll skip it. This is more useful in group chats where people through garbage into it.
This "Forwarded" tag doesn't appear if a user copies and paste it in another chat. So, technically you can still forward a message without being caught.
you wanna know the latest WhatsApp updates: check here
This feature might actually demolish the spread of spam and forwarding culture. WhatsApp is continuously working on their messaging app to make more clean.
During Facebook's F8 Conference earlier this year, the company said that WhatsApp will be getting a group calling feature which can be used by up to four people at a time. WhatsApp is always an exciting thing. Right?